Vnesheconombank's participation in 3rd Eastern Economic Forum in Vladivostok: results
"The Russian Far East: Creating a New Reality" plenary session featuring Russian President Vladimir Putin as a keynote speaker became the highlight of the Forum. The participants also included Vnesheconombank Chairman Sergey Gorkov.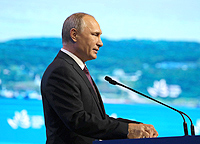 In conjunction with the Forum, Vladimir Putin launched in a telebridge mode a sawn wood production complex by pressing a symbolic button. The complex is built in Amursk, the Khabarovsk Territory, with Vnesheconombank's financial support.
During the Forum, Sergey Gorkov spoke at the "New Technologies in the Asia-Pacific Financial Sector. How blockchain is Transforming Reality" panel discussion and the "Financing Innovation as a Driver of Economic Growth in the Russian Far East" session.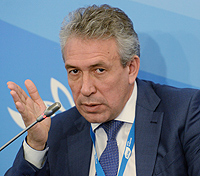 Sergey Gorkov: "Russia has every opportunity to become the leader not only in blockchain and mining, but also in technological breakthrough in general. However, this work requires will and determination. VEB is a member of a blockchain working group headed by Russia's First Vice Prime Minister Igor Shuvalov. We are determined to proceed with this work, in particular, in terms of the regulatory framework."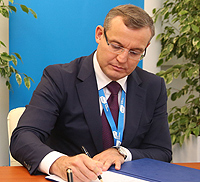 "It is important to establish the training standards, define who blockchain specialists actually are, and how they should be trained. What we have today is just a general concept without any distinct training programmes. Therefore, the objective is to set standards for breakthrough technology professionals together with other professions of the future."
Dmitry Kurdyukov, Vnesheconombank First Deputy Chairman - Member of the Management Board: "Financing infrastructure, in particular, port and terminal facilities is a key objective of Vnesheconombank as the bank for development. Funding of projects aimed at infrastructure debottlenecking produces significant development impact, in particular, by boosting production and creating new jobs. Furthermore, such projects bring about a multiplier effect through removing constraints, developing other industries and raising additional capital."
Pyotr Zolotarev, Vnesheconombank Deputy Chairman - Member of the Management Board, took part in the "How Can We Ensure an Inflow of Private Investment into Developing the Infrastructure of Russia's Far East?" discussion and acted as the moderator of the "Support for Major Investment Projects. What Now?" session.
Pyotr Zolotarev: "Vnesheconombank regularly engages in infrastructure development and participates in a number of projects designed to expand transport, railway, sea- and airport infrastructure. VEB is eager to take an active part in both infrastructure projects and projects that could be expanded based on the new infrastructure."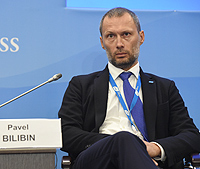 Pavel Bilibin, Director of Wood Processing Complex Division at Vnesheconombank, participated in the "Forests and Timber Processing: from Timber to Pulp and Paper Factories" panel discussion.
Pavel Bilibin: "Pulp and paper production is a driver to promote the forest industry complex. Characterised by high margins, it is the largest industry in the sector. Now we can observe a dynamically developing market of specific types of cellulose. Due to its vast areas of softwood forest suitable for the production of long-fibre cellulose, Russia is well equipped to occupy any niche in this market. No one else in the world has such resources."
Roman Fomin, Senior Managing Director of Legal Support Department, Legal Directorate of Vnesheconombank, delivered a speech at the "Protecting Investments and Creditors' Rights in the Russian Far East: Strategic Changes" session.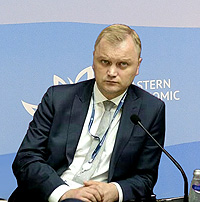 Roman Fomin: "Project Finance Factory will facilitate procedures, mitigate risks and improve efficiency of the three key stages of project finance: project preparation, structuring and raising finance, and monitoring.
Syndicated lending is the main tool employed by the factory to protect both the investments raised, and the creditors' rights. Syndicated lending has a number of advantages: it helps decrease the amount and extend the term of borrowing, cut transaction costs, and streamline the use of collateral. Syndicated lending provides for sharing credit risks among several banks and diversifying each given bank's portfolio, increasing asset liquidity and expanding a range of potential borrowers and customers."
During the Forum, Vnesheconombank signed the following agreements:
A cooperation agreement with the Federal Medical and Biological Agency of Russia (FMBA). The parties have agreed to cooperate with a view to preparing and delivering a national 4P medicine operator investment project, as well as other healthcare projects.
A cooperation and coordination agreement with United Grain Company. The parties have agreed on the mutually beneficial cooperation with a view to developing Russia's agrofood market infrastructure.
A cooperation agreement with Autonomous Non-Profit Organization Agency for Strategic Initiatives, Young Professionals (WorldSkills Russia), and Cyber Vostok. The parties are planning a long joint expert and research initiatives, contests of promising projects, hackathons and blockchain training programmes at the Vnesheconombank Centre of Blockchain Competencies.
A cooperation agreement with the Far East and Baikal Region Development Fund (FEDF, VEB Group) and Khabarovsk Airport. The parties have agreed to cooperate in delivering a project on the construction of a new passenger terminal for domestic flights in Khabarovsk Airport. The total project cost is RUB4.4bn with Vnesheconombank and FEDF's joint commitment standing at RUB3.5bn.
Press Office
E-mail: press@veb.ru